Adelard provides a variety of services to medical device manufacturers in the UK, Europe and USA, including the use of our ASCE product – the Assurance and Safety Case Environment.
Our focus is the assurance and demonstration of safety, cybersecurity and regulatory compliance. We have experience in working with different types of devices, including several infusion pumps, ventilators, robotic systems and mobile phone applications.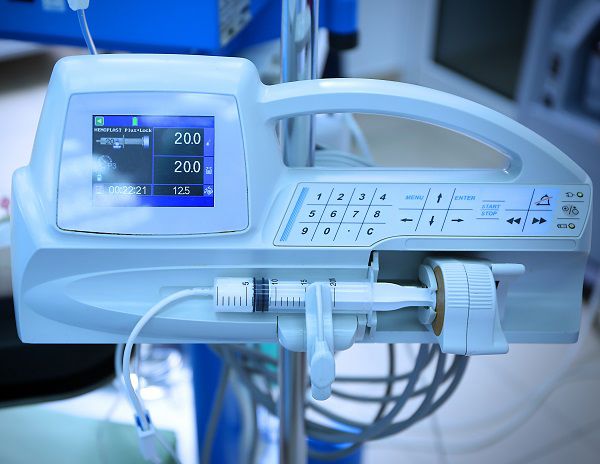 We are experts in software analysis, risk management, human factors analysis, and safety assurance cases, and we work within the FDA, EU and UK regulatory frameworks for medical devices. More specifically, we provide the following services:
Risk management
We specialise in the application of a variety of hazard identification and analysis techniques as required by standards such as ISO 14971:2019, DCB 0129 and DCB 1060. We can help you develop the risk management files (risk management plan, hazard log, safety case) as required by these standards for your medical device.
Software assessment
We have extensive experience in both code analysis (e.g. static analysis) and assessment of quality of development. Please visit our software analysis page for more information. We can also help you provide justification for the use of COTS operating systems (e.g. Microsoft Windows).
Cybersecurity assessment
Cybersecurity is essential for ensuring the safety of medical devices –  especially for those with network connectivity. Adelard is an expert in cybersecurity hazard analysis, and we have experience working with FDA guidance on cybersecurity and American Association of Medical Instrumentation (AAMI) TIR57:2016 Principles for medical device security - Risk management.
Safety assurance cases
The FDA requires that a safety assurance case is developed for new infusion pumps as part of their pre-market submission. Similarly, the UK NHS requires that safety cases are submitted for approval of healthcare IT systems.
We can help you develop the assurance case argument and structure, or we can carry out an in-depth review of your entire assurance case. Adelard has over 20 years of experience in the development and assessment of assurance cases and has played a key role in the development of Claims-Arguments-Evidence. We have also contributed to the development of AAMI TIR37: Medical device safety assurance case report guidance.
For further information on assurance cases for medical devices please download our brochure.
ASCE
Adelard's ASCE tool supports medical device manufacturers in the development of safety and assurance cases and technical files. ASCE is the most established software tool in the areas of development and assessment of safety and security assurance cases.
Training
We offer a two-day training course on the development and assessment of assurance cases for medical devices. The course is currently offered online.
We also offer a training course on the ASCE safety assurance case tool.
Research
Adelard has an active research programme that aims to bring assurance case research into practice in the medical domain. We were major contributors to a report for the Health Foundation on Using safety cases in industry and healthcare.
Please contact us if you require any further information on the services that Adelard can provide in the medical devices sector.